OUR BEST SELLING MEAL PLANNER NOTEPAD
To help YOU:
Cook More Meals at Home
Eat Less Take-Out
Save Time
Save Money
Reduce Stress
Eat More Variety!
Grab The Meal Planner Notepad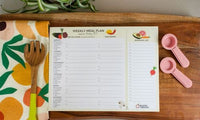 Meal Planners + Date Labels + Notepads + Cards
Hello Fellow Home Cooks!
I'm Barb (the mom), a food educator, online course creator, recipe developer, writer, endless list maker, with a passion for pen and paper (and food!).
I started Recipes To The Rescue in 1999 to stir fun into the doldrums of everyday cooking. You can read more about me on the about us page here.
This shop is a mother and son collaborative that began as a Covid-19 project.
My son Scott, is the creative one behind the designs.
We teamed up to make and sell beautiful, fun and practical stationery products for you, the everyday home cook.
We sell meal planners, weekly to-do planners, shopping lists, to-do lists, and food labels in our shop with more to come!
Our intention is to add levity into your busy routines, help you get organized and simplify your lifestyles.
I hope you enjoy them.
Barb
Testimonials
We are four adults living together and we take turns to cook. The weekly meal planner has been an important tool in keeping us organized.  

Also, it helps me make a plan when I am inspired which is often when I am going through magazines or browsing through the 'Recipes to the Rescue' website. 

The planner gives me a place to record those inspirations along with the ingredients when it is my turn to cook.  

Diane
So cute and practical! Bought it as a gift for my mom who was disappointed a local store didn't sell a similar item anymore. Definitely keeping this shop in mind for future gifts!

Item is high quality and matched the description. Seller communicated well about shipping and followed up to ensure I received the order

E.
Excellent planner, quality card stock and the shopping list tears off cleanly with little to no effort. Love the design and it helps keep meal planning simple each week :) Thank you!

-D.
I'm using my two cookbooks and your meal planner. It's been fun. Kevin and I eat more together. He knows what's for dinner before work. And he anticipates it.

Betty
Thanks for your meal planner.  I gave it to my 30 year old daughter who is cooking more at home. She loves it. 

B